V
I

SUAL PR

I

MER
Unlocking the Greatest Human Potential

The Greatest Human Potential
Well into its 100-year mission which began 33 years ago, to raise IQ and general human potential, the Visual Primer™ development is an example of the eternal marriage that exists between ever changing technology and the great untapped potential of young children today.
By 3½ years of age children can develop confident, fluent, adult-like reading ability using Visual Primer™ even though vocalization of Speech is not fully developed at this age.
Children as young as 12 days old begin matching the sense of sight for seeing the muscular movement of the mother's mouth simultaneously with the sense of hearing for language acquisition.
Nothing can prevent very young children from learning to read with adult like ability when the decoding aspect of reading is acquired simultaneously with the acquisition of speech in early childhood.
Play: The VP 60 Second UNIT-1 To Your Baby or Young Child. See What Happens!
With VP Technology provided to Parents, below are examples of unstoppable learning in early childhood, from the age of Birthhood to 7 years of age.
1. VP Use from 3 months
2. Adult-like Reading Ability at 3 Years
3. Initial algebra at 4 years
4. Speed reading at 5 years
5. High School maths at 6 years
6. High school maths at 7 years
Buy V
i

sual Pr

i

mer for Home Use
12 Month Subscription
$790
VP User Name and Password is automatically sent to the purchaser's email address on receipt of payment for immediate use.
For part payment request or discount due to hardship, write details and send to: VPpartpay@theddcode.com
Purchase of V
i

sual Pr

i

mer for Kindergartens and Schools

Please fill out and email the form below to receive costing for your school.

All requests are processed and returned within 2 working days.
SUMMARY 1
Tech Your Baby & Young Child to Read with Adult-Like Ability By 3 Years of Age - Taking One Minute of Time a Day!
Visual Primer™ facilitates the greatest natural interest and fascination in young children by generating printed language coming from the mouth of a person speaking in conformity with the natural flow of speech which can develop adult-like reading ability long before school without teaching your child to read as we know it today.
In the form of 40 X 60 second audio/visual segments generated by computer graphic and linguistic sequence encoded technology, Visual Primer™ creates the perfect medium for education and entertainment for the development of your child's full potential in early childhood.
Without effort and minimal time, Visual Primer™ futuristic education technology imparts complex knowledge to babies and very young children such as speech and reading, creating the perfect medium for developing your child's full potential while promoting natural and greater bonding with your child at home.
SUMMARY 2
This Is Visual Primer, It's Abstract and How It Works
1. The 40 X 1 Minute PRIMER PROGRAM UNITS relate to 8 familiar and closely acquainted groups young viewers become intimate with and within the environments of most preschool children. They include programs relating to:
Self (Units 1-7)
Universal Constants (Unit 8)
Asking Questions (Units 9 & 5)
Immediate Surroundings (Units 11-27)
Medicine (Unit 28)
Immediate Nature (Units 29 & 30)
Common Opposites (Units 31-39)
Time Sense (Unit 40)
Below shows the 4 Sections the Time Code and Display of the Word Content Of the 60 second duration film of VP Unit-1:


2. VISUAL PRIMER ABSTRACT, accordingly, provides a sequence of reproducible multiple images and sound stored and encoded in a medium and forming part of a programmed to develop reading ability in the viewer of the programme. In the developing the said sequence and appreciated by child psychologists is that a young child even of 12 days, is most responsive to certain visual stimuli that the mouth of a person speaking to him/her are particularly able to gain and hold the attention of a child and are an especially potent source for imparting knowledge to the child.
3. THE MEDIUM most advantageously become video imaging. The sequence of successive flashing images includes a pair of lips seen to be speaking each of plurality of words, the written form of each of these words - appearing in association with the respective lips speaking the word and plural meaningful written groups of words. The sequence on said medium is effective in combination to stimulate the child in a manner to develop the child's reading ability, to enhance his/her ability to subsequently read the word content of the images.
4. THE IMAGES are encoded with simultaneously reproducible audio accompaniment included repeated/delayed expressions of said plurality of words as and after they are respectively seen to be spoken by the lips. The image of the lips are preferably a woman's lips, emphasized by red lipstick, encirclement and selected colour contrasting. The audio accompaniment further includes a rhythmic off-beat sounded by a drum suite, the accent-tempo of which approximates mother's heart rate as heard by the unborn child. The said accompaniment expresses the respective groups of words in conformity with the natural rhythm and flow of the words as a group.
5. THE GROUPS of words in red, optimum print form the Visual Rhythm of Language, synchronised to Audio Rhythm of Language on the left channel. The image of a written word seen to be spoken by the lips is initially, momentarily, superimposed on the lips and rapid enlargement of small representation to large representation, of significant proportion of word images are synchronised to voice delay. Such, 'zooming' and emphasised suddenly appearing lips, stimulate eye exercise, even though stimulated 3D imagery.
6. WORDS preferably appear in a print which is read (longest wavelength of visible spectrum - like last visible light at sunset!) and which optimises vertical lines and spaces, as it is though that a young child more readily perceives the net shape or appearance of a set of vertical elements. It is further appreciated by child experts that an infant or young child has a faster intellectual absorption capacity in his first six years of life than an adult but that any continuous period of concentration on a single activity should be as short as possible.
7. IN CONSEQUENCE, the duration of a sequence of reproducible multiple images constituting one session or sitting of stimulation is of the order of one minute or less. The duration of each image of the sequence is preferably less than one second, for example, between one-half second and one second. Each sequence ending displays one two second image by differing sequence format to aid further speed reading. The inventive sequence of images is not merely a collection of information, words but information presented in a particular visual and audio combination which commands the attention of a child viewer and stimulates him to both receive and store the information for recall.
SUMMARY 3
The average 4.5-year-old today knows 4,000 - 6,000 spoken & unspoken words, but cannot not Read any number of this body of words save only elements of reading such as "buh" for "bat", or "cuh" for "cat".
A 4.5-year-old using Visual Primer Technology with 90% Mastery for Reading & Understanding at 9-10-year-old level has 40% Mastery of Adult Level and can Read at least 4,000-6,000 Words.
If the Average 4.5-year-old knows 1 Word, and a 4.5-year-old with 40% Mastery of Reading and Understanding ability at the Adult Level, the Multiplicative Literacy Effect derived from Simultaneous learning of Speech & Reading in earliest childhood with VP is 4,000 – 6,000 times greater.
No education department has ever conducted any similar research with even 1 child who has learned to Read simultaneously with learning to Speak with any developments such as Visual Primer. Right, shows the FIRST graph in 200 years of Education Psychological Literature, which plots the number of words able to be Read by the 10-Year-Old against words able to be Read by the Average 4.5-Year-Old.
Citing these Reports, and with respect to Literacy alone, where it is officially and formally documented that a 4.5-year-old has the Reading & Understanding ability of a 9-year-old, it would be easy to create a Straight-Line Graph, showing the 4.5-year-old has Twice the Intellectual Potential OVER Time Taken than the average 4.5-year-old with respect to Reading and Understanding Ability at the 9-year-old level. Re Graphs 1 & 2.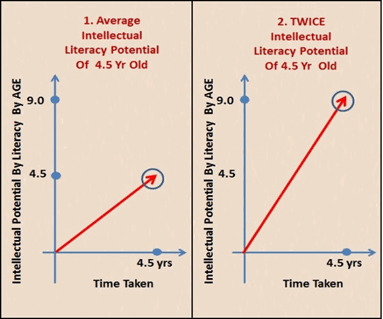 The graph below shows Not Twice Intellectual Potential by the 4.5-year-old who can Read and Understand at the 9-year-old level, but an EXPONENTIAL Potential increase of 4,000 to 6,000 times compared to the average 4.5-year-old: